The X1 bus service runs a shuttle coach service from Peterborough station to my village every 30 minutes. It's mainly used by teenagers and old people, because the local yokels tend to use the cheaper, skankier Norfolk Green service. I prefer the swifter service because the tall seats offer less opportunity for interaction with locals.
So I was sitting on this bus, suffering with a migraine that I've had on and off all weekend. I was closing my eyes to shield them from the sickening glare of the sun, and happily daydreaming to myself about celebrity weddings. I opened my eyes briefly to check our position. Just then, a local's head (shaven and adorned with tattoos and flesh tunnels) popped up from the seat behind mine and addressed me directly, "
Oi reckon you was asleep just then
."
I was a bit shocked by this uninvited observation, so just smiled limply and replied in the negative. This would be enough, in normal circumstances, to repel any more unwanted comments, but this man obviously wasn't one for subtle nuances, and continued, like a vocal bull in a china shop, "
Oi reckon if you wasn't then you was gettin' that way, why you asleep on the bus for?
"
This too caught me off-guard, I firmly said "I. Am. Awake." and turned to look out of the window. 'Ha", I thought, 'try talking your local talk to the back of my head, you incoherant simpleton!' This wasn't what I should have said, obviously, what I should have said was "NOT THAT THIS IS ANY BUSINESS OF YOURS, MR YOKEL, BUT I HAVE A CRACKING MIGRAINE THAT FEELS LIKE PART OF MY BRAIN HAS DETACHED FROM THE REST AND IS WOBBLING AROUND LOOSLY INSIDE MY HEAD, AND I WAS CLOSING MY EYES TO SHUT OUT THE LIGHT BECAUSE IT FEELS LIKE A MILLION DAGGERS
STABBING
ME IN THE BACK OF MY EYES. AND FURTHERMORE, YOUR HARSH NORFOLK ACCENT IS CAUSING EAR DISTURBANCE AND GENERAL AWKWARDNESS, RESULTING IN NAUSEA. NOT THAT ANY OF THIS IS YOUR BUSINESS, YOU UNDERSTAND, I'M JUST SAYING THIS TO TRY AND
MAKE YOU STOP TALKING TO ME
."
Harsh, you might think. Not really. When you catch a bus or tube or plane alone then you have paid for the right to sit/stand ignored for the duration of the journey, you can then pretend to ignore everybody else and amuse yourself by making mental observations about their dress/behaviour. It is an unwritten law that anyone who tries to chat with fellow passengers is either a child or a mental, and I don't want to talk with either of them. Why then, did this man think he had the right to question my bus slumber? Has he never encountered people catching a quick 40 winks on public transport before? This and the fact that he INVADED MY PERSONAL SPACE tells me that he is not a regular user of the Cambridgeshire bus services, or any public transport service for that matter. I was on the 10:35 from King's Cross earlier, no words were exchanged with my fellow passengers other than the perfunctory smile and nod, which is the only interaction you should need to have with strangers at any point on any journey, unless they offer you their newspaper or help you to put your bag in the rack above. Even then you should only make the politest of comments, unless invited (by body language or otherwise) to continue and have a conversation.
I am also concerned that this SPACE INVASION is continuing over into my blog, as a few comments recently left by 'anonymous' have suggested potential sharking, this is in breach of blog etiquette and all such comments will be ridiculed or deleted as appropriate.
Today's blog is dedicated to Croc-Agitator Steve Irwin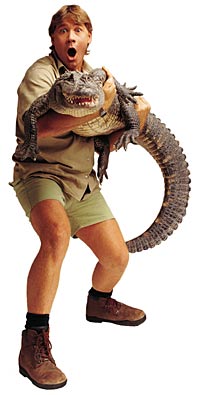 RIP Steve, keep worrying those snakes in heaven.